Club Sessions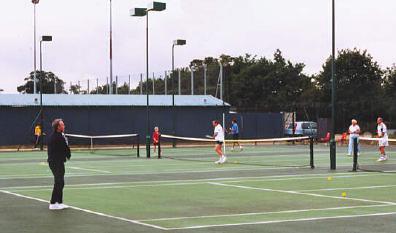 The club provides several club sessions each week when members can come along and join in, usually for social doubles play. These sessions vary from year to year and throughout the year depending on demand, as shown below. The club provides balls and floodlights, when necessary. The club play sessions are usually as follows:
| | |
| --- | --- |
| Tuesdays: | club night and social tennis from 6.30pm |
| Thursdays: | club night and social tennis from 6.30pm |
| Fridays: | social tennis from 9.30am |
Members can also play at other times, provided that the courts are not in use for club matches, public pay and play or coaching.
Singles Box League
There is also the opportunity to play in our singles box league. If you want to play in the league, please first contact our Club Coach or Len Jarman.
Public Play and Pay Sessions
Public access to the courts is obtained by visiting the Premier convenience store at Wivenhoe Cross, where visitors can book and pay for the courts. A key to the courts is provided which must be returned to the Premier after playing. Whilst every effort is made to keep the courts in good order, users of the courts are requested to leave the courts in good condition and to take away any litter. All users are requested to act responsibly whilst using these facilities.
Public pay and play is available from 9am to 9pm each day, except when reserved for Club play or events.